Bulk Delivery Rates:
If you are purchasing BULK product by the m3, please use the Bulk Delivery Zone Calculator. 'Bulk product orders' by their nature are done in a tip truck which does a single trip, and therefore delivery costs are higher.
Note - Distance 'inner metro' etc. relates to distance from The Green Life Soil Co's premises, NOT the Perth CBD.
Growing your own healthy vegetables, fruit & herbs is fabulous and a great deal of fun!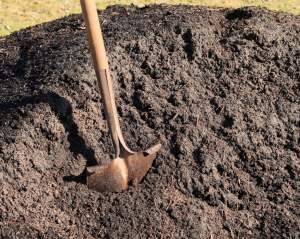 But it is also an investment in your ongoing health and wellbeing. Our soil mixes, made on site, are perfect for organically growing your own food. We are so confident in our soil mixes, we offer a guarantee on them! (See FAQ's for details.)
Trace Elements
We include in our mixes of a broad range of trace elements, such as selenium, cobalt, iron and others naturally deficient in W.A. soils (compost or manure alone would not necessarily include these). Ensuring you use a quality soil mix means healthy plant growth, but it also means essential minerals and nutrients accumulate in the vegetables which you get to eat!
Complete growing mediums, our soils are ready to go!
The soil mixes we make are complete growing mediums, they require no extra nutrients to be added for optimal growth. For the best results we recommend thoroughly soaking the soil before planting.
Organic & no harmful residues Our Vegetable Mix, Vegetable Concentrate, Seed Raising and Potting Mixes are certified organic by NASAA. All other products are made with base ingredients that are allowable organic inputs.
Some suppliers will claim their soils are 'organic'. For your total assurance, ask them for details - which of their soils are fully Certified Organic, who they are certified with, and their certification number. Truly Certified products will carry a logo and a number, like ours.
Water holding minerals
Already added to our soil mixes are our Sand Remedy natural water holding minerals. As these minerals hold water they also hold nutrients, reducing leaching of theses nutrients into the wider environment. We would still recommend mulching in the warmer months.
Beneficial microbes to promote healthy soil biology
Our soil mixes contain beneficial microbes, plus activators, and a range of food sources for them, to encourage healthy, living soil. Microbes are the workers in the soil, making nutrients and minerals available for plants, ensuring healthier and stronger plant growth.
On-going product development
We are committed to on-going testing and development of our soils, to ensure we keep delivering to you a quality, value for money product that helps YOU grow a better garden.
Our soil mixes are ready to plant into, perfect for raised garden beds. Whilst a rich mix and not overly sandy, it does contain a coarse quartz sand to help with drainage and aeration. (Quartz sand is not yellow sand or black, gutless 'Bassendean' sand. It has a mixture of particle sizes and good water holding ability.)
Please note some of our soil mixes contain RECYCLED product - compost and/or mulch products made from recycled, aged and composted council green waste. Unfortunately because waste isn't always separated as well as it should be, sometimes small bits of inert waste (eg. wire, plastic and occasionally glass) can slip through the manufacturing process and be found in our end product. We do our best to eliminate any contaminants during our mixing procedure. Should you feel this is an issue for you, please contact us to discuss. Please be assured these inert materials do not affect the soil's performance.
Using recycled product (which passes organic and other compost quality standards) means that waste is saved from landfill and is an environmentally sound practice.
Our soils are available in bulk (delivery or pick up) and most are available bagged (either pick up or order via our online shop).
* If requesting a product to be bagged as a special order (ie. a product we do not normally carry in bags); minimum order quantities may apply. Please allow time for production. Please contact us for further information.
Our Soil Products include:
Vegetable Mix
Certified Organic. Grow the tastiest, healthiest vegies and herbs in your own garden. Great soil = great plants. Ready to plant into. Ideal for raised garden beds. Also great to mix into heavy clay or laterite soil.
Available in bulk or 25 litre bags.
Green Life General Mix
This soil mix is not just a landscape mix. Try it and see the difference. Ideal for shrubs, exotics and general perennial garden beds. Also fantastic for planting out fruit trees.
Available in bulk, or 25 litre bags (bags by special order*).
Native Mix
A blend of compost, coarse sand, organic fertilisers and minerals, suitable for phosphorus sensitive plants. Great to use in planting holes for native trees to give them a head start.
Available in bulk, or 25 litre bags (bags by special order*).
Lawn Top Dress
Aids water retention and provides nutrition. Designed for established lawns. Spread 1cm deep over entire lawn and water in. Also ideal for planting new lawns on heavy soils, or where you prefer to bring in a complete growing medium on which to lay your turf.
Available in bulk, or 25 litre bags (bags by special order*).
Potting Mix
Certified Organic. Quality mix containing cocopeat and trace elements. Ideal for growing your favourite plants (including vegetables) in containers.
Available in bulk or 25 litre bags.
Square Foot Garden Mix
Our own version of 'Mel's Mix' tailored for Perth's conditions. Contains cocopeat, vermiculite and compost - plus trace elements and a little extra nitrogen. Especially formulated for growing in Square Foot Gardens. Also suited to shallow raised beds and containers
Available in bulk or 25 litre bags
Acid Mix
Formulated as a planting mix for acid loving plants, for use in planting holes and new garden beds. Also useful in areas where base soil is highly alkaline.
Available in bulk, or 25 litre bags (bags by special order*).
Seed Raising Mix
Designed as a great medium for germinating seeds. Contains cocopeat, vermiculite and added nutrition.
Available in bulk to order or 15 litre bags as a stock item.


Remember - we make 'concentrate' versions of our soil mixes which are designed to be used as a soil improver. Click here for more information on concentrates.
Other soil mixes we can make to order include:
Succulent Mix
Perfect for cacti and succulents; with good drainage and added nutrition.
Available in bulk, or 25 litre bags (bags by special order*)
Native Potting Mix
For growing phosphorus sensitive plants in containers. Balanced for drainage and water holding.
Available in bulk, or 25 litre bags (bags by special order*)
Vertical Garden Mix
Lightweight and with excellent water holding capacity. Can be made to suit wall or roof garden installations.
Available in bulk, or 25 litre bags (bags by special order*)
Waterlily Potting Mix
Suitable for potting/repotting water plants. Has minerals to help reduce leaching of nutrients and lessen algal growth.
Available in bulk, or 25 litre bags (bags by special order*)
Vegan Planting Mix
Contains no animal by-products or manure. We don't think it packs as much 'punch' as our regular mixes; but if you wish to avoid animal products for ethical reasons, we can look after your needs.
Other specialised requirements? Because we manufacture our soils on site, we can tailor make mixes to suit your needs. Minimum quantities may apply - contact us to discuss.
Available in bulk, or 25 litre bags (bags by special order*)